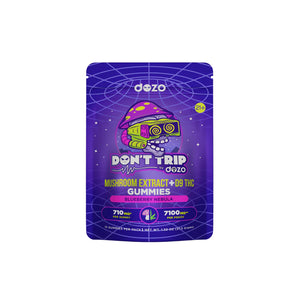 Free Shipping
Don't Trip Mushroom + Delta 9 Gummies | Bluberry Nebula 7100 MG
Content: Each pouch contains 10 gummies, offering a medley of Mushroom Extract, Muscimol, Muscarine, and D9 THC
Potency: Each pouch delivers a total of 7000mg Mushroom Extract and 100mg D9 THC. Each individual gummy provides 700mg of

 

Mushroom Extract

, coupled with 10mg of D9 THC
Taste: Indulge in the succulent and irresistible flavor of Bluberry Nebula.
Legal Status: These products do not contain Psilocybin and are perfectly legal. Enjoy without concern, because, as we say, don't trip, it's legal
Effect: Step into the boundless universe of your mind with Don't Trip Mushroom + Delta 9 Gummies. The magical marriage of Amanita Muscaria mushroom extract and Delta 9 THC in each gummy guides you through the labyrinth of the subconscious, illuminating dark corners with the lamp of clarity. Imagine seeing the world not as it is, but as it could be. Don't just dream, live it.