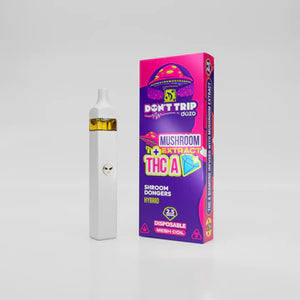 Free Shipping
INGREDIENTS
Content: Each Shroom Dongers vape is filled with a hefty 2.5 grams of the highest quality ingredients
Ingredients: A potent composition of Mushroom Extract, THC-A Diamonds, Delta 8 THC, Delta 10 THC, CBD Live Resin, and Natural Terpenes results in a powerful mixture
Effects: Gear up for a rapid and profound impact that will be etched in your memory. The Shroom Dongers flavor offers a unique hybrid adventure, creating an equilibrium between uplifted cerebral stimulation and calming body relaxation. A single puff of this vape introduces you to a universe where stress dissipates, and creativity flourishes, promising an exceptional vaping experience.