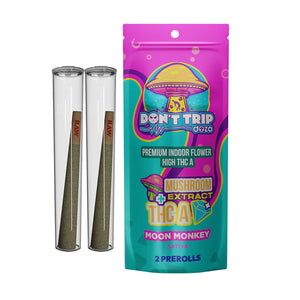 Free Shipping
INGREDIENTS
Don't Trip Preroll | Moon Monkey (Sativa)
Content: Each pack includes 2 prerolls, each containing 1.5g of high-quality ingredients.
Ingredients: Industrial Hemp derived THC A flower, Muscimol, Muscarine, THC P - all natural and vegan.
Effects: Moon Monkey Sativa prerolls usher in robust and long-lasting effects. As you immerse yourself in the uplifting and energizing world of Sativa, expect waves of creativity and focus that will redefine your day. Experience the exceptional blend of Moon Monkey, delivering a journey of invigoration and heightened productivity.