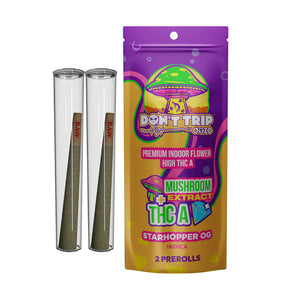 Free Shipping
INGREDIENTS
Content: Each pack contains 2 prerolls, each loaded with 1.5g of top-tier ingredients.
Ingredients: Comprises an all-natural, vegan blend of Industrial Hemp derived THC A flower, Muscimol, Muscarine, and THC P.
Effects: StarHopper OG Indica prerolls deliver potent and enduring effects. Experience the profound relaxation and tranquility that Indica is renowned for, alongside the unique characteristics of the StarHopper OG strain. This combination invites a deep state of calm, relaxation, and ease, making it an ideal companion for winding down after a long day.